Through cooperation with our partners,
amnimo aims to accelerate IoT, creating many dynamic use cases.
What is a Value-Added Partner?
VAP=Value Added Partners
Co-creation partners who make direct approaches to the IoT market with amnimo are called VAP.
amnimo provides the environment and support to achieve your vision regardless of the size of the organization.
We will collaborate in sales, business development, application and hardware development, operations, etc. to create the market.

【Support provided by amnimo】
Connection from sensor to cloud, package until data utilization which doesn't require SI (System Integration)
Development tools required for application creation (API, SDK)
Technical support when needed
EC sales environment for created apps (subscription)
【Main collaboration contents】
Sales promotion, business development, application and hardware development
→ Specialize in creating added value without troublesome SI
Collaboration in operation, installation, removal work
Consultation for End Users
Using IoT for your Business
Examples of how IoT can solve business challenges
We want to launch a business using IoT.
We want to launch a new business using IoT but our business development skills and resources are limited.
To commercialize the system, it takes a lot of time and money not only to develop the system but also to build operational systems for billing, sales, support, and maintenance.
Business development process

From the development phase to the operation phase, amnimo offers a wide range of services. We consistently assist our partners in all of the processes required for their business development.
We want to develop and operate an IoT system.
There is no choice but to rely on system integrators to create a mechanism for operating an IoT system.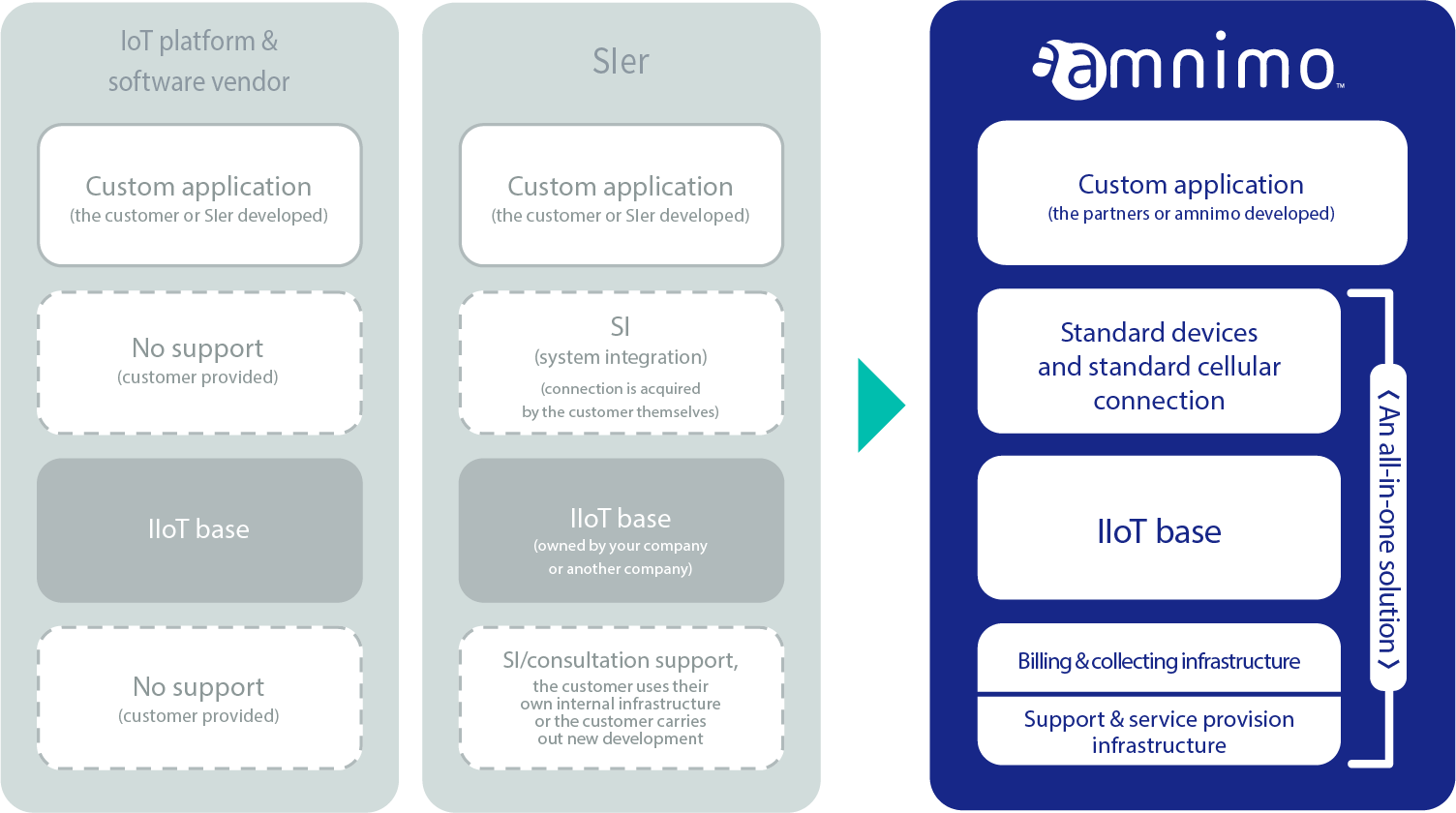 amnimo provides sensor devices, IoT platforms, operating systems as an all-in-package. So that you can focus on developing custom apps.