On December 10, 2019, Ryo Takeuchi, Executive Vice President (EVP) of amnimo Inc. was on stage for the 8th seminar event in Shah Alam, Malaysia. This seminar was one in a series of sessions organized nationwide as a part of the Malaysia-Japan Collaboration on Smart Manufacturing. The core objective of this collaboration between Malaysia and Japan is to promote Industry 4.0 technologies and solutions from Japanese industries into Malaysia's SMEs.
Event Summary
Malaysian government had launched the National Policy on Industry 4.0 (Industry 4WRD) on 31st October 2018 with one of the objectives being to assist Malaysia's SMEs in adopting Industry 4.0 technologies and subsequently enhancing their productivity and market access. The target audience are local SMEs especially manufacturing SMEs in the sectors of electrical and electronics, food and beverages manufacturing, machinery and equipment, chemical, furniture, who are keen on adopting Japanese Industry 4.0 technologies.
Time : 09.00am to 01.30pm, on Tuesday, 10th December 2019
Venue : Seminar Room, SIRIM (HQ), Shah Alam, Malaysia (https://www.sirim.my/)
Organizer : SIRIM STS Sdn. Bhd. and Japan External Trade Organization (JETRO)
Participants : approx. 45 people (SME manufacturers, automation vendors/SIs, government agencies)
1. Seminar Session
This event was graced by three Japanese organization namely amnimo, Azbil Malaysia Sdn. Bhd. and Fujitsu (Malaysia) Sdn. Bhd. showcasing their respective offerings in IIoT and Industry 4.0 technologies.
Ryo Takeuchi, Executive Vice President (EVP) of amnimo Inc. presented on the topic of 'Enabling Fast and Easy Launch of Industrial IoT Services' engaging the audience for an hour's session comprehensive covering various topics viz. IoT in the production site in a manufacturing SME environment, traditional way of IIoT system offered, how amnimo helps partners in deploying IIoT solutions to SME sector helping and facilitating end users/companies in adoption of Industry 4.0. Ryo Takeuchi's presentation also talked about application examples using amnimo IIoT infrastructure. The presentation was followed by a round of Q&A from curious audience which was promptly addressed with elaborative set of answers via presentation by Ryo Takeuchi.
On stage Ryo Takeuchi, EVP of amnimo

Full house @ 8th Smart Manufacturing Seminar
2. Mini Exhibition
At the mini exhibition corner, amnimo introduced two use cases of smart manufacturing that concretely apply for Malaysia. The use cases known as 'IoT Recipes' were using 'amnimo sense', which is the basic service of amnimo that enables user to easily start IoT services at a monthly subscription rate.
Monitoring Temperatures (e.g. inside Aquaculture Freezers etc.)
Detecting Uncomfortable Conditions in Buildings (Monitoring CO2 levels)
The booth was jointly operated by amnimo, and amnimo's local partner in Malaysia; TK International Sdn. Bhd.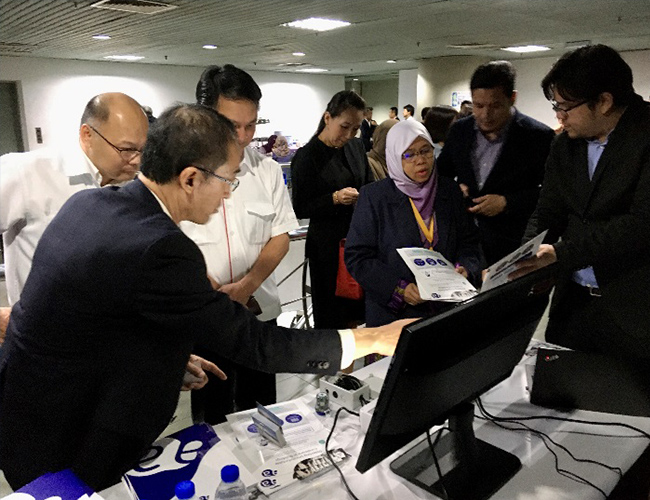 Visitors at amnimo booth